August 21st Program Meeting
August 21, 2018 @ 6:30 pm

-

8:45 pm
Featuring:
Rock of the Month Presentation
"Olivine, A Hidden Treasure"
by Jared Nishimura
Main Presentation
"How Exotic Gems are Changing the Jewelry Industry"
by Renee Newman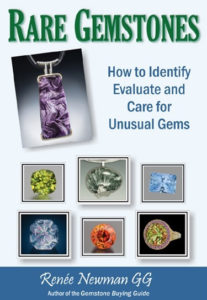 Sharpen your eye for apatite, fluorite, kyanite, rhodochrosite, tanzanite, and others, as GIA-trained gemologist and author Renee Newman offers an introduction to the growing market for non-traditional gems. You'll learn about sources, pricing, value factors (color is not always the most important!), settings, and care tips. PLS members who want to sell their work will be interested to learn, as Renee has observed, the more information you can provide to customers, the more they are willing to pay.
Renee got started in gemstones as a tour director to Asia and South America in the early 1980s. Her passengers wanted details on how to evaluate gems and potential bargains in overseas shops, so she signed up for the GIA Colored Stone Grading course. She went on to a GIA diploma and was hired as a gemologist at a wholesale firm in downtown Los Angeles. In 1989, she published her first book, Diamond Ring Buying Guide. Since then, she has written 12 more books, including Exotic Gems: Volumes 1, 2, 3, and 4 and Rare Gemstones.
Her books will be available for purchase at the program meeting for a discounted price of $15 each, including sales tax. Cash or check only. For more information, visit her website: www.reneenewman.com.
---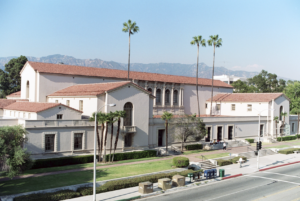 We hold informative monthly meetings. Our meetings are held in the comfort of the Donald Wright Auditorium of the Pasadena Central Library, 285 E. Walnut Street, Pasadena, California. Comfortable seating, lighting, a stage and audio-visual system allows us to attract quality speakers, provide demonstrations and interesting videos for our members!
Meetings are the third Tuesday of the month. Members and guests arrive between 6 pm and 6:30 pm for refreshments and information exchange. A display table at the back of the room allows our Education Committee and society members to display creations, finds, and the birthstone of the month. It is also a place for members and guests to have unknown minerals identified.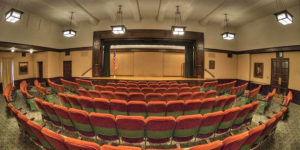 Our meetings begin at 6:30 pm and end at 8:45 pm. They include a business session and a program on a subject relating to our earth science hobby. Refreshments are served at a break between the sessions. The program may include demonstrations, slide shows, videos, auctions, show and sell, or lectures on various subjects.