December 9th Workshop
December 9, 2018 @ 9:00 am

-

4:00 pm
Classes:
Faceting
by Ed Imlay
December's workshop will feature a demonstration of how a faceting machine works by Ed Imlay. A faceting machine in action looks kind of like a turntable playing a vinyl record…zzzzz. But the class is a must-see. Very few rockhounds around today know how faceting is done.
---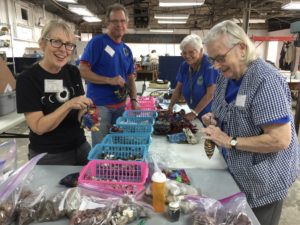 We offer a fully stocked lapidary workshop for our members including: Rock saws, full range of cabbing and polishing machines, faceting equipment, project tables and more! (Completion of instruction needed to use some machines.)
In addition, classes are often taught by skilled club members.
Workshops occur on the second Sunday of each month. The hours are from 9 am – 4 pm. Half day is $3, all day $5. Park on the street or in the lot on the east side of the building.
Learn more about becoming a member.
For more information, please contact Carolyn Duncan at 909-593-2781 or gem.quest@verizon.net.