Classes:
Carving For Beginners Class
by Sylvia Cliffe
Have you ever thought you might like to try your hand at making a cameo or other pictorial carvings? There's a great opportunity coming to the PLS Workshop this summer. Classes start at 10 am.
Bring your rotary tool (Foredom or Dremel). Bring safety glasses and a dust mask. All other materials provided.
Haven't got a rotary tool? We have three available that members can use at the workshop during class. Seating is limited.
Wire Wrapping Class
by Ed Imlay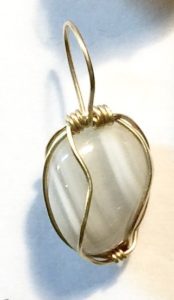 When wire-wrapping a cabochon, most people use an "around the perimeter" style that holds the stone like a picture frame. Instead of a frame, you could put your cab in a cage. Despite the name, a Wire Cage design offers a delicate, more open look – good for a pendant or for a necklace or bracelet with stones that dangle.
Learn how at the August Workshop, where Ed Imlay will present a Wire Cage class at about 10:30 am (after a session of Cabbing 101). Here are tools and materials to bring:
Ring mandrel and ring sizer
Caliper or ruler
Straight or bent-nose pliers
Round-nose pliers
Wire cutter
Wire: #22 copper or other metal
Over the years, Ed has put a lot of thought into the ways of wire and polished rocks. This class will be a good one!
---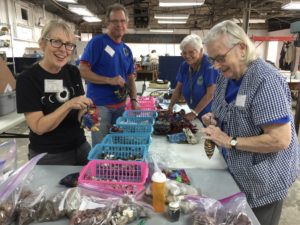 We offer a fully stocked lapidary workshop for our members including: Rock saws, full range of cabbing and polishing machines, faceting equipment, project tables and more! (Completion of instruction needed to use some machines.)
In addition, classes are often taught by skilled club members.
Workshops occur on the second Sunday of each month. The hours are from 9 am – 4 pm. Half day is $3, all day $5. Park on the street or in the lot on the east side of the building.
Learn more about becoming a member.
For more information, please contact Carolyn Duncan at 909-593-2781 or gem.quest@verizon.net.