Our Mission – Since 1946
The Pasadena Lapidary Society serves to educate its members and the community in mineralogy, earth sciences, and training in the lapidary and jewelry arts – while promoting a policy of sound mineral resource stewardship based on environmental awareness and ethical behavior. The Society fulfills its mission year-round which may include field trips, lapidary workshops, outreach presentations, public mineral displays, an annual show, and our monthly informational meetings which are open to the public. We have active youth programs and we encourage and mentor our junior members and guests. Our educational programs and outreach brings the hobby of rockhounding and lapidary arts to the public. We are a 501 c3 non-profit registered in the state of California
2020 marks our 73rd year in operation!
2021 Officers
President – Ellen Ferrell
Vice President – Michelle Vandenbroeck
Secretary – David Lacy
Treasurer – Philip Lahr
Federation Director – Sue Pang
1st Trustee – Marcia Goetz
2nd Trustee – Chris Kyte
3rd Trustee – Joe Goetz
Memberships
We are proud members of the AMFS (American Federation of Mineralogical Societies) and the CFMS (California Federation of Mineralogical Societies).
Early History of the Pasadena Lapidary Society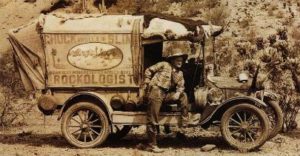 A well-known collector and seller of rocks, fossils and unique items – Edwin Howard Vose II (widely known as Chuckawalla Slim) made his summer home in Pasadena in the 1940's and 1950's. This self-proclaimed "Rockologist" was so popular that he attracted a number of other collectors from the Pasadena area wherever he spoke.
Slim, C.D. Gibson, Clarence Chittenden and Vic Armstrong formed the Pasadena Lapidary Society in the mid-1940's and incorporated it as a California non-profit corporation on May 19th, 1949. For years their gatherings were informal affairs – tailgate swapping and meetings in local parks.
The ranks of the new Pasadena Lapidary Society grew quickly. It was not unusual to have more than 50 members at a club meeting. Meetings were held at the Odd Fellows Hall in Pasadena and Jessie Chittenden taught jewelry design there.
The club began planning field trips for its members almost immediately. Clarence Chittenden and his wife, Jessie, (a dean at Pasadena City College) compiled a series of rock collecting maps which he published and were widely used among Southern California rock collectors. In 1953 the club ventured outside of Southern California to spend the Labor Day weekend at Cambria, California, to search the beaches for jade.
The club has been active in keeping collecting areas open for collectors and were involved in the fight to keep Dinosaur National Monument from becoming a storage project – as was reported by Desert Magazine in August 1954.
The club's annual public show, the "Tournament of Gems", began in 1955 and was held at the Davies Memorial Building at Farnsworth Park in Altadena. The club, led by Harry and Arlene Billheimer, was a leader in showcasing rocks and gems at the Los Angeles County Fair, where the club's exhibits won ribbons and accolades.
Members of the Pasadena Lapidary Society have a history of being leaders of our hobby. The PLS was one of the first clubs that formed the California Federation of Mineralogical Societies (CFMS) in 1947. Clarence Chittenden's maps were the standard for the hobby. Arlene Billheimer served with distinction as president of CFMS and we are represented among the officers of SCRIBE, which promotes newsletters for lapidary societies worldwide.