Program Meetings

Our in-person meetings have returned! The venue has changed, however, as the historic Pasadena Central Library won't be available to us due to seismic safety issues. Our meetings will be held going forward in the Fireside Room of The Santa Anita Church, 226 W. Colorado Blvd., Arcadia, CA 91007. As before, we'll host quality speakers and provide demonstrations and interesting videos for our members and public guests.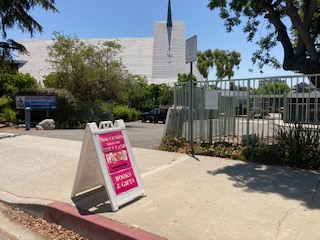 Meetings are the third Tuesday of the month. Members and guests arrive between 6:30 pm and 6:45 pm for refreshments and information exchange. A display table at the back of the room allows our Education Committee and society members to display creations, finds, and the birthstone of the month. It is also a place for members and guests to have unknown minerals identified.
Our meetings begin at 7:00 pm and end at 8:45 pm. They include a business session and a program on a subject relating to our earth science hobby. Refreshments are served during a break between the sessions. The program may include demonstrations, slide shows, videos, a raffle, show and sell, or lectures on various subjects.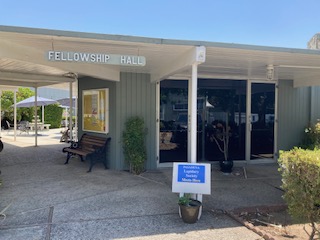 Past programs have included How to Display your Lapidary Creations in a Show Case, Koroit Boulder Opal Mining, Field Trip First Aid, Mount St. Helens, Rhodochrosite Mining, Thunder Eggs, Larimar, Micro Crystals, Chinese Farmed Pearls, Rock Carving Throughout History, Mineral Classification and Identification, Camping Basics — as well as focuses on a variety of rare gemstones and minerals.
Click on each of the three embedded links below for further information regarding our new meeting location:
Additional images of the new meeting location.
Aerial view of the meeting room location on the church campus.
Directions with map to church location.
Workshops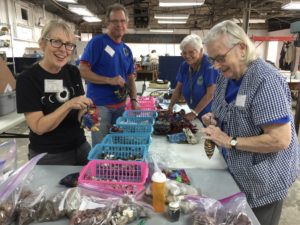 Our workshop is open! We offer a fully stocked lapidary workshop for our members including: Rock saws, full range of cabbing and polishing machines, faceting equipment, project tables and more! (Completion of instruction needed to use some machines.)
In addition, classes are often taught by skilled club members.
Workshops occur on the second Saturday of each month. The hours are from 9 am – 3 pm. Park on the street or in the lot on the east side of the building.
Learn more about becoming a member.
For more information, please contact Phil Lahr at 818-926-3163 or plkslahr@att.net.
.
Shows
The Pasadena Lapidary Society has traditionally hosted an annual gem and mineral show during the second weekend of March. For 2022, we plan on hosting our show August 20-21.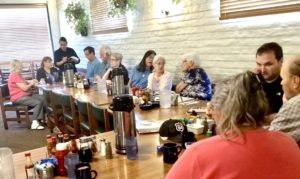 In 2019 the Pasadena Lapidary Society hosted the 80th annual California Federation of Mineralogical Societies Show & Convention from March 8 – 10, 2019 in Pomona, California! Our committee members held monthly meetings to plan and make decisions for this exciting event.
In addition, we try to keep our site updated with information about other local shows. Please visit our events calendar for the latest show updates.
Board Meetings
Board members usually arrive around 6 pm for dinner and conversation before the meeting gets started. The talk is about rock events, vacations, ideas for the newsletter, whatever. PLS members are always welcome to join in.
The President calls the meeting to order around 7 pm. This is a business meeting, and follows certain procedures. The agenda includes approval of minutes, status reports by committee chairmen, Old Business, and New Business. The business items range from routine expenses to policy questions to proposals for new projects. Only Board members may cast votes, and discussion is under the direction of the President. PLS members who visit a meeting and wish to contribute to the discussion will be recognized and given time to speak. A visit to a Board meeting is a good way to learn how the Board works and about Board member responsibilities, especially for those who might be interested in serving on the Board.
Board meetings occur on the 1st Thursday of each month from 6 pm – 9 pm online via Zoom for the time being.