Rock of the Month Presentation
Psilomelane
by Mona Ross
Our January Rock of the Month talk will be by Pasadena Lapidary VP Mona Ross, on Psilomelane, a group name for hard black manganese oxides.
Main Presentation
A Brief History of Beads
by Janie Duncan
PLS member Janie Duncan will present 'A Brief History of Beads' at our first program meeting of the New Year.
---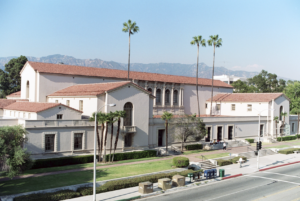 We hold informative monthly meetings. Our meetings are held in the comfort of the Donald Wright Auditorium of the Pasadena Central Library, 285 E. Walnut Street, Pasadena, California. Comfortable seating, lighting, a stage and audio-visual system allows us to attract quality speakers, provide demonstrations and interesting videos for our members!
Meetings are the third Tuesday of the month. Members and guests arrive between 6 pm and 6:30 pm for refreshments and information exchange. A display table at the back of the room allows our Education Committee and society members to display creations, finds, and the birthstone of the month. It is also a place for members and guests to have unknown minerals identified.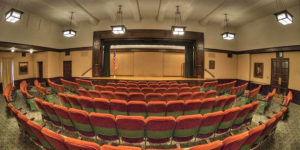 Our meetings begin at 6:30 pm and end at 8:45 pm. They include a business session and a program on a subject relating to our earth science hobby. Refreshments are served at a break between the sessions. The program may include demonstrations, slide shows, videos, auctions, show and sell, or lectures on various subjects.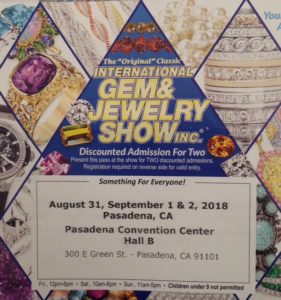 Looking for something to do Labor Day weekend without having to go out of town? Here's an idea: The International Gem & Jewelry Show, held at the Pasadena Convention Center, August 31 – Sept. 2. Hours are Friday 12 pm – 6 pm, Saturday 10 am – 6pm, Sunday 11 am – 5pm. Endless jewelry, including vintage & estate, gemstones, beads, chains – something for every gem and jewelry lover! Visit www.intergem.com to get discounted tickets! See you there!
(NOTE: InterGem is not associated with Pasadena Lapidary; we're just sharing this fun event on our website.)