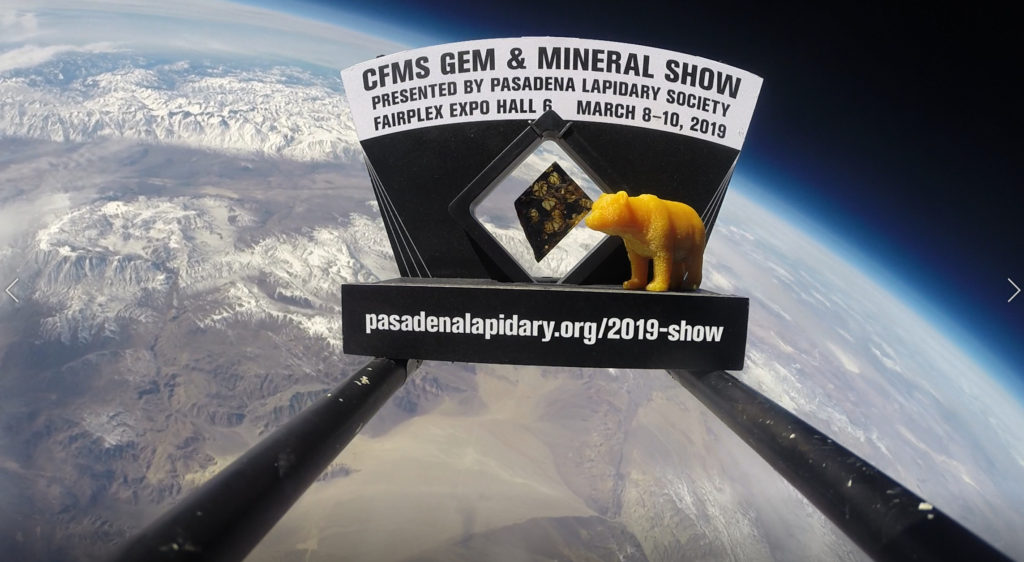 With the snow-capped Sierras in the very distant background, our little meteorite and Golden Bear pose for the Earth to Sky Calculus camera.
The Pasadena Lapidary Society (PLS) just sent a meteorite slice back to space!! PLS members engaged the Earth to Sky Calculus Club to launch a helium balloon carrying a pallasite meteorite slice from a launch site near Bishop, CA, up 95,000 feet into the stratosphere, often called "the edge of space". A pallasite meteorite is a rare type of stony-iron meteorite containing olivine crystals of peridot in an iron-nickel matrix. The meteorite weighs 9.75 grams and was found originally in the Republic of Belarus. The balloon traveled over the snowy Sierra Nevada of central California on February 23, 2019. After the balloon popped, the meteorite was parachuted back to Earth, landing on the eastern edge of Death Valley National Park, where it was recovered the next day.  The meteorite will be on display at the upcoming California Federation of Mineralogical Societies (CFMS) Gem and Mineral Show, March 8-10, 2019 at Fairplex, Expo Hall 6, in Pomona. An image of the meteorite will be viewable in the days to come by way of spaceweather.com.  It will be back-dropped against the blackness of space and the curvature of the Earth, in a frame announcing the CFMS Show, along with a 'Golden Bear' figure (unofficial mascot of the CFMS).

PLS, a non-profit organization, is co-hosting the CFMS show, entitled California's Natural Treasures. The show features many exciting things to experience: a Kid's area with fun games about rocks, minerals and fossils; grab bags containing rocks, crystals, and minerals; special exhibits such as the aforementioned meteorite, display cases where members of different rock and gem societies in the CFMS show off their talents and compete for awards; gold-panning for real gold; wonderful, highly-coveted raffle prizes made and donated by PLS members; a silent auction with colorful rock slabs, collectible mineral specimens and other items; live demonstrations of jewelry making and other lapidary skills; dealers with meteorites, gems, minerals, jewelry, fossils, tools, equipment, books, maps, and many other unique items. Admission is $5 for adults, $4 for teens 12-17, seniors (60+) and active military; Free for kids under 12, accompanied by paying adult. Hours are 10-5 Friday and Saturday, and 10-4 Sunday.